Let's assume, for just an instant, that you are unaware of the greatness that is Troll 2, a movie so bad that it has its own documentary about how bad it is.
You haven't yet seen the light, but that's okay, because soon you'll know why you need to get your hands on it this very moment.
1. The very creation of this movie was bizarre
Imagine you're a filmmaker and you'd like to make a horror movie. You and your screenwriter don't speak English, but that doesn't stop you from going to American and writing the movie in English anyway. Sure, English is a highly nuanced language and it takes native speakers years to master grammar and writing, but who cares?
Next, you need some actors for this masterpiece. But under your brilliant guidance, anyone can become the next Al Pacino, so you'll take anybody that's handy, even a local dentist. You'll also need someone to make monster costumes for your creepy goblins. Your movie is going to be so scary, it doesn't really matter that it looks like the PTA at the local elementary school whipped those babies up for the school play!
Sound too ridiculous to be true? Unfortunately, that's the exact nature of Troll 2. The creators of the film were an Italian couple that spoke almost no English, the man who plays the father was a dentist who would shoot in between filling cavities, and the costumes look like potato sacks with masks on them.
2. The plot of this movie is inexplicable
Troll 2 is about a boy, Joshua, whose family is going on a trip to the town of Nilbog. His recently-deceased grandfather often appears to him as a ghost and tells him scary stories about goblins, who are vegetarians and turn people into plants because, I guess the salad bar at Whole Foods is too expensive?
Anyway, his older sister dances in front of mirrors and has a creepy boyfriend, who joins them in Nilbog, along with his friends. The ghost of Joshua's grandfather warns him not to eat any food there or they will be turned into plants, so Joshua pees on the food.
There's a witch who's in charge of the goblins, but she is defeated with a magic stone. She also seduces one of the boyfriend's pals with an ear of corn before suffocating him in a trailer full of popcorn.
If you're totally baffled, please understand that this is the absolute clearest explanation of the movie I can muster.
3. Okay, scratch that. EVERYTHING about this movie is inexplicable
You might have noticed that nowhere in that description were trolls mentioned. That's because there are no trolls in Troll 2. None. Not one troll. Not even a troll doll, I don't think. Apparently, it was given its title to trick people into thinking it was a sequel to an unrelated troll movie.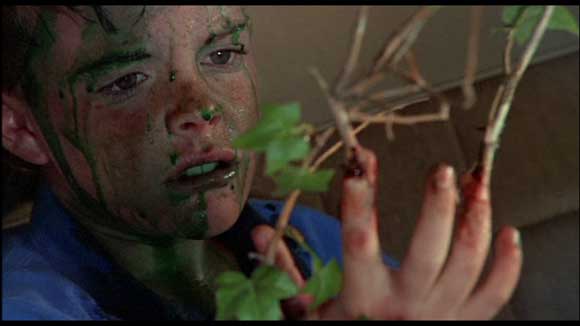 And the pee thing? If someone said "Quick, make sure no one eats that food!", what would you do? Maybe say it was poisoned, or throw it on the ground? I guess Joshua's method was pretty effective, but what a strange instinctive reaction.
There's so much about this movie that just doesn't make sense. Why do the trolls need to turn people into plants, especially when they believe so strongly that it's evil to eat meat? Is it less evil when you turn it into something else? And if it was so important that the grandfather warn his family away from the evil goblin town, why didn't he appear to the parents –aka, the people in charge of taking the family there?
4. Despite all that, though, it's awesome
Maybe you've read all of the above, and now you're thinking "Why do I want to even watch this terrible movie?" You want to watch it because it's hilarious. This is the kind of movie you and your friends will send Snapchats mocking for weeks. There are too many so-bad-they're-good lines to count, the timing and reactions of every character are comedy gold, and the special effects would be considered lazy by kindergartners.
There's a reason this movie has such a huge cult following (which you can check out in the documentary Best Worst Movie. This wasn't thrown together in order to make a quick buck on the SyFy channel. It's a labor of true love, something that people honestly thought they were doing really well in.
The director has literally said, while interviewed, that it's a critique on society and human nature, and is baffled when people find it funny. But trust me, you'll find it much funnier than he does.
So this Halloween, grab your vegetarian meals, bury yourselves in popcorn, and try not to pee on the food. You and your friends need to visit Nilbog as soon as possible.
Troll 2 can be purchased on DVD or streamed online through Amazon for $2.99.